How do you like your massage?
Whether you are a serious athlete, weekend warrior or just looking to relax and renew, we customize each treatment to your specific needs and goals drawing on the following modalities:
Classical / Swedish
Aimed at general relaxation and wellness, classical massage utilizes a system of long strokes, kneading, and friction techniques combined with gentle active and passive movements of the joints.
Deep Tissue
Focusing on the deeper layers of the muscles, deep tissue work utilizes shorter strokes and deeper pressure to release chronic patterns of tension in the muscle.
Myofascial Release
Using slow, deep elongating strokes, myofascial release works with the connective tissue fabric known as the fascia to break up adhesions and enable increased freedom of movement.
Self-care
Tension-release and postural realignment exercises, and body-care techniques are offered to help clients keep tension at bay between treatments and maintain their own wellness.
Sports and Remedial Massage
Through a combination of classical, deep tissue, and myofascial techniques, sports massage is designed to optimize performance and prevent injury for athletes and performers. Sports massage can be used:
– to increase circulation, relax certain muscle groups and improve mental clarity before an event
– to support the body's recovery process post work-out or post-event by relaxing tense muscles and reducing metabolic build up
– as a key component in rehabilitation after soft tissue injury
Pediatric Massage
Massage is fantastic for children as well!  Studies have shown that massage helps developing children in many ways.
Both Jane and Peter are internationally certified in pediatric massage through the Liddle Kids Foundation.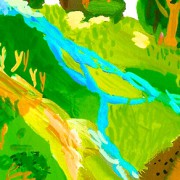 "Jane has a magic touch that left me feel calm and invigorated. She is a very caring and kind therapist who really takes her time get to know her client's needs. Her massages both help me to release tension in my neck and shoulder areas and energize me."