Wellspring Massage — your source for relaxation, renewal and recovery
Update July 19, 2020
Klosters is now open! Normal availability is Sunday through Wednesday noon, as before but other appointments are possible. Please SMS or WhatsApp to get in touch with me.
Update March 23rd
A week ago Monday the surgeon removed the wires; now rehab can begin. Unfortunately the Covid-19 crisis means that we have a mandatory shutdown with no end date in site. As I know more, I will post here.
Update February 8th
So… a bit of bad news from my side. Late January a skier rounded a blind curve and we collided head on. Unfortunately, my right hand was crushed in between us. The diagnosis was a class Bennett's fracture. Fixation via Kirschner wires was done Friday the 7th of February at Spital Zollikerberg. The next appointment with the surgeon is March 12th; if everything looks good then the wires can be removed.
I cannot express how sad it makes me to be sidelined like this, but that's life. To all of our clients – please check back in March for an update.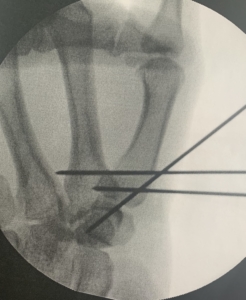 Whether we are at work or at play, contemporary life is fast-paced and stressful. Chronic stress can manifest itself in many ways – sore muscles, knee pain, back pain, tight hamstrings, neck pain, difficulty sleeping to name but a few.
Stress also saps us of our energy and vitality, weakens our immune system and can set us up for illness and injury.
At Wellspring Massage we ease the stresses, tensions and pains of daily living and offer relaxation and renewal.
Whether you're a desk warrior, or skier, downhill mountain biker, golfer, or tennis player, or an athlete of any kind, sport and remedial massage is for you.
We provide high quality therapeutic and remedial massage for the whole family – children as well adults. Massage is proven to be a highly effective form of stress management and offers many well-documented health benefits.
 At Wellspring Massage, we tailor each massage to your unique needs drawing from a variety of massage and soft-tissue therapy techniques. Treatments are  by appointment and offered in a friendly and comfortable environment. We are available in Klosters Sunday through Wednesday noon, other appointments upon request.
"Peter, thanks a lot for the wonderful massage.
It was most efficient as I felt already during the treatment how pain was relieved. Your touch & technique show that you are a real therapist with a broad and state-of-the-art know-how."